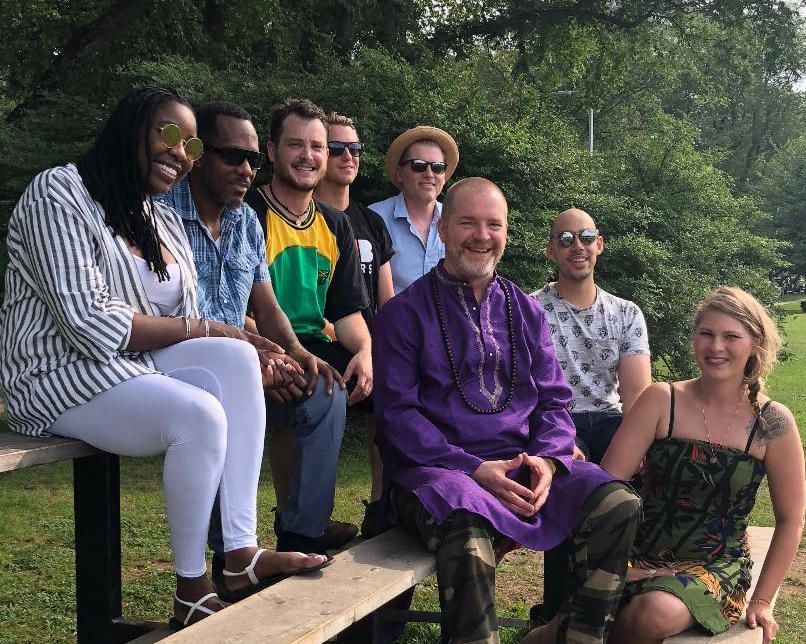 Andru Branch & Halfway Tree are joined by the lovely Jhamiela Smith-Dunn and Kristine Kovacevik on the Halifax Common for the annual Jamaican Independence Day celebration in 2018. Pictured here, from left to right, are Jhamiela Smith-Dunn (vocals), Andrew Brown (bass), Myles Cornish (trumpet), Teddy Skiffington (drums), Johnny Parker (guitar), Andru Branch (vocals, keyboards and percussion), Andrew Jackson (trombone) and Kristine Kovacevik (vocals).
My lifelong friend Tomaz Jardim introduced me to Earl "Chinna" Smith in 1996, back when we were recording my debut album at Kingston Muzik Studio. Chinna leant his formidable talent to two songs on the album and has welcomed me to his home ever since. His front porch, affectionately known as "Inna De Yard", is a cultural hub that attracts all walks of life from all around the globe, as long as it is in the name of music. Anything else is "fuckery", for which Chinna has little tolerance. I always ensure to bring our mutual friend Seeco down to this mecca at St. Andrew Park for a visit. One of my fondest memories was of a reunion of sorts, where I carried Studio One "bassie" Brian Atkinson down to see Chinna, to great fanfare. The humble Studio One bass player was received with due reverence for his massive contribution to the foundation of reggae music. Joined by several of the many musicians who are present Inna De Yard on any given day, we jammed a whole back catalogue of early reggae hits from back in the day, well into the night.
It was there, Inna De Yard, where I met Chinna's daughter Jhamiela for the first time. She carried herself like an Empress; smooth and confident. Neither of us could have foreseen at the time that we would go on to play together in Canada. I started seeing her around Halifax, on the arm of a skinny, white rocker named Adrian Dunn. From a musical family in Cape Breton, Adrian and Jhamiela eventually got married and formed a reggae outfit she dubbed Jah'Mila. It was a welcome opportunity for me to play my beloved percussion instruments when she invited me to join her group of premiere reggae musicians from around the city, including bass player Alec Frith and saxophonist Sean Weber, who both played with Halfway Tree somewhere along the way. Jah'Mila's growing fanbase has embraced her for her sweet yet commanding vocal prowess, much like her personality. It brings me great joy to support her and to share our musical journey together, contributing to the spiritual upliftment that reggae music brings everywhere it resounds.