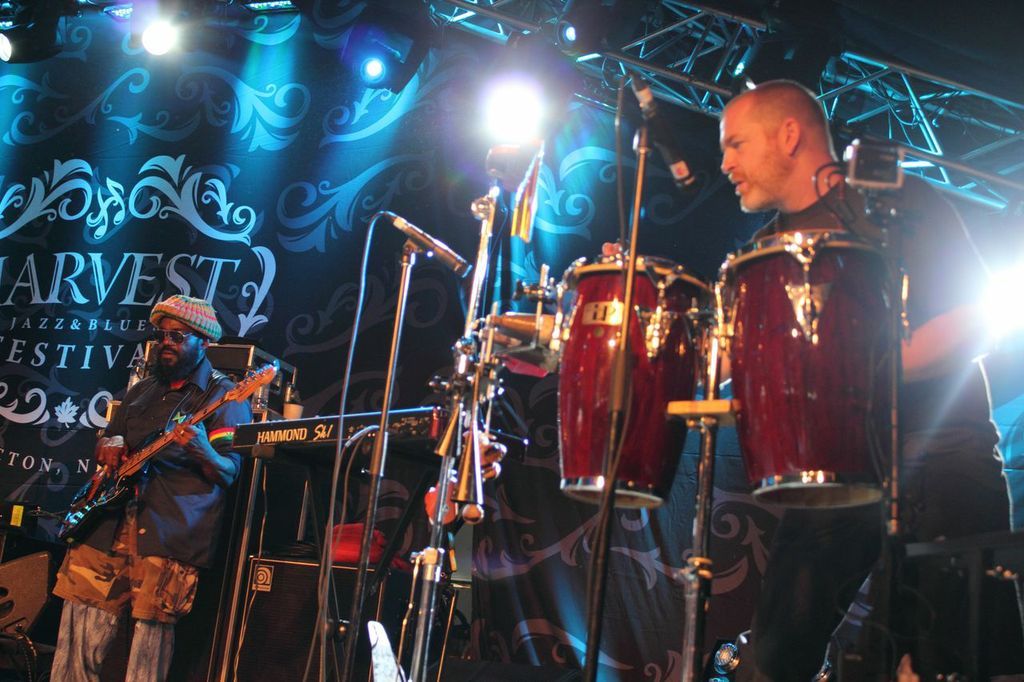 Following the Halifax Jazz Festival gig, where Halfway Tree opened for The Wailers, Aston "Family Man  Barrett invited me to sit in with Bob Marley's world famous band when they returned to perform at the Harvest Jazz and Blues Festival in Fredericton, New Brunswick. It was such a treat to play with such reggae royalty again. Loving his camo shorts over his camo pants!!
From as far back as I can remember I have been motivated by rhythm. My beloved friend Raffa Dean used to invite me on stage to play my growing collection of percussion instruments by his side at Toronto's famous Bamboo Club in the 90s. Playing out of time was not an option. He became a mentor to me and taught me how to play all the many variations of reggae music. Raffa was the backbone of the reggae scene in Toronto, where he played with more bands than you could count. Two of the main bands he commanded were Livestock and Hit Squad, the main backing bands that supported the many Jamaican artists that came to Toronto to perform. Following his lead, I went on to back such reggae legends as Gregory Isaacs and Glen Washington. 
Over the years I have had the great fortune to work with many of Jamaica's most celebrated singers and players of instruments, at all of the major Jamaican festivals, including Rebel Salute, Reggae Sumfest, Sting and Reggae Sunsplash, back in the day. Many opportunities were born out of my recording sessions at Kingston Muzik, where I met the SANE Band (Sounds Against Negative Expression). My respect to brothers Joseph and Jeffrey Graham, who welcomed me into the fold, to play and tour with the Warrior Love Band, who have since relocated to Toronto. 
For nostalgia's sake, here is a list of some of the Jamaican artists I have had the pleasure to play percussion with over the years: Luciano, Sizzla, Cocoa Tea, Freddie McGregor, Marcia Griffiths, Junior Reid, Richie Spice, Tony Rebel, Queen Ifrica, Jah 9, Shuga, Etana, Gramps Morgan, George Nooks, Christopher Martin, Nature, Fantan Mojah, Bugle, Exco Levi, Warrior King, Natural Black, Wayne Marshall, Vybz Kartel, Sean Paul, Yellowman, Frankie Paul, Everton Blender, The Mighty Diamonds, The Congos, The Heptones, Israel Vibration, Johnny Osbourne, Max Romeo, Admiral Bailey, Edi Fitzroy, Johnny Clarke, Leroy Gibbons, Thriller U, Andrew Tosh, Brinsley Forde and of course, The Wailers (above).